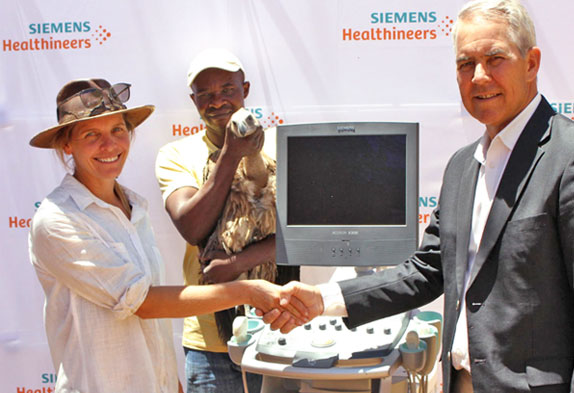 We are so grateful to have the support of Siemens Healthineers South Africa aiding us in our mission to save African vulture populations. They have so generously donated the most incredible Ultrasound Machine to us.
Please read their press statement below.
Siemens Healthineers South Africa extends the wings of vulture conservation
Advancing the community and society through activities that maintain the health of the natural environment is important to Siemens Healthineers. We strive to be innovators, leaders and contributors that ensure our communities and environment will endure and thrive. Our mission is to change the future of healthcare and that applies not only to the human species but to all living beings. It is within this approach that we adopted conservation as one of our Corporate Social Responsibility pillars.
Today, vultures face an unprecedented onslaught from human activities. They have to survive the risk of electrocutions and collisions with electrical structures that are fast populating their natural habitat. Poisonings, land-use changes, a decrease in food availability and exposure to toxicity through veterinary drugs are just some of the many perils that these beautiful birds have to face daily.
In October 2019, Siemens Healthineers South Africa embarked on an active drive to make an impact in this wildlife conservation by donating the Acuson X300 Ultrasound machine to The Vulture Conservation Programme. The organisation is now able to ensure that these endangered avians receive the highest quality of diagnostic care to guarantee necessary and relevant treatment.
Affectionately known as VulPro, the programme is home to more than 250 rehabilitated, non-releasable vultures that are used in a captive breeding programme. The vultures that are captive bred are tagged and released when they are old enough, in this way VulPro helps to supplement wild populations and strives to save the threatened species of feathered creatures.
"The donation of this equipment is also motivated by our strategic objective of being THE enabler of healthcare providers worldwide. We believe that our healthcare technology and equipment will aid the organisation in saving the threatened vultures. Furthermore, we are driven by our long-term commitment of making a difference in the communities in which we operate in".
– Mark Flint, South Africa Zone Country Head
"I am so deeply moved and humbled by your generosity, kindness and utmost support. It is not often we come across such an amazing organisation that is so willing and giving and appreciative of species conservation and of course vultures. Thank you so much".
– Kerri Wolter, VulPro CEO
#VulPro #vultures #Siemenshealthineers #Siemenshealthineerssouthafrica 
1/1