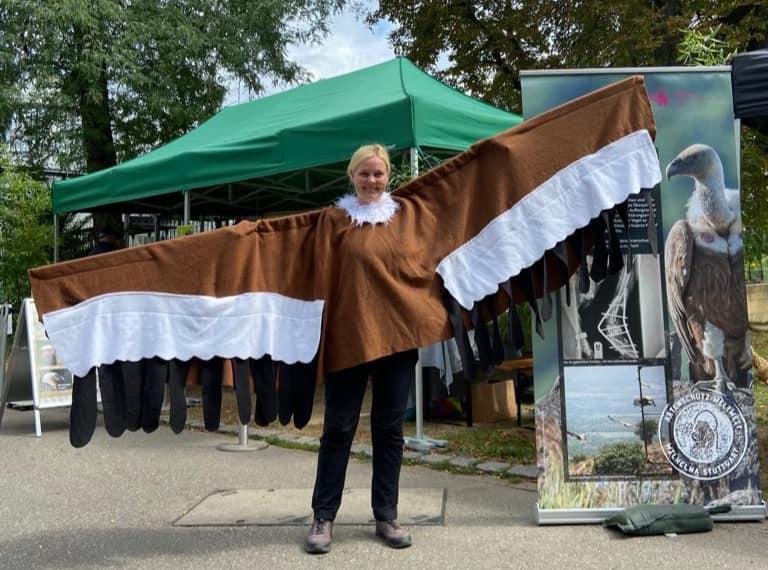 In July of 2022, I got a message from Kerri that she was invited to represent Vulpro at the Species Conservation Day at Wilhelma–Zoologisch-Botanischer Garten, Stuttgart, Germany, on 4 September. Travelling from South Africa to Germany just for one day would be a would have been difficult, so she asked me if I would like to go to Stuttgart and represent Vulpro. What a privilege! I did not have any other plans, and I just wanted to be amongst the vultures on Internal Vulture Awareness Day (IVAD). When Wilhelma Zoo told me they also celebrate International Vulture Awareness Day and I could help at the vulture information desk, too, the plan was fixed!
Wilhelma Zoo's contact, Stefanie Reska, was brilliant, and we quickly made a plan for my weekend in Stuttgart. I also got in contact with Felicitas, a former Vulpro volunteer living in Stuttgart. We had never met, but when I asked her if she would like to join, she immediately said yes to the Species Conservation Day. I just love it when pieces fall into place, and everything seems so easy. Together for vultures!
On Friday, Giant Gustav and I headed 450 km to Stuttgart by car and arrived just in time to build up the information desk and prepare everything for IVAD. I also met some of the other wonderful staff members who ran the information desk on this special Saturday.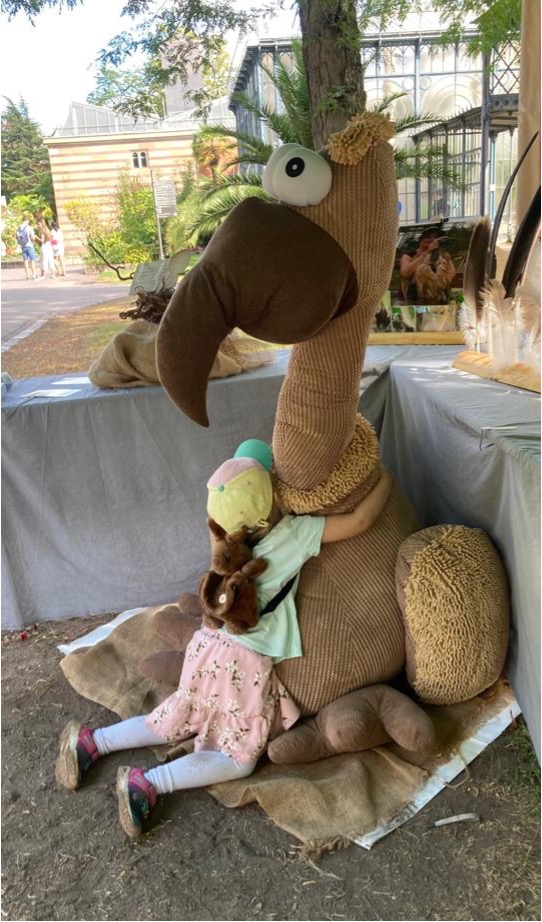 At IVAD, there were different stations at the information desk so that the visitors could get an overview of how amazing vultures are. The information covered basics like feathers and eggs, the 23 different species, Diclofenac, vulture restaurants and, finally, Vulpro's conservation work. We also had a vulture quiz, where kids could win little prizes and not to mention make long-lasting memories about vultures. Close to the vulture enclosure, people could take selfies with a banner showing the wingspan of Cape Vultures from South Africa. At lunchtime, there was a special keeper's talk and a Griffon Vulture was fed. I was even allowed to go inside the enclosure and get a closer look at the beautiful birds.
We spoke about vultures for the whole day, answering thousands of questions, raising awareness and even some funds for Vulpro. I can't thank Wilhelma Zoo's incredible team enough for making IVAD 2022 very special for me, the birds and the many, many visitors. The whole time I felt like I was part of the team! And Giant Gustav even got to enjoy some hugs and cuddles from our little guests.
On Species Conservation Day, I finally got to meet Felicitas, and I absolutely understand why Vulpro has such fond memories and is keeping her close. She is such a wonderful, open- hearted person! There were only the two of us at the information desk, and we decided to focus on some vulture basics and our volunteering trips to Vulpro. Wilhelma Zoo has been sponsoring Vulpro for a couple of years, and most of the support comes directly from the daily visitors, who add an extra Conservation Euro to their entrance fee. It was beautiful to see how happy the visitors were when we explained how their contribution makes a huge difference to Vulpro and the other conservation projects that were represented at the Species Conservation Day.
Talking about vultures all day is one of my favourite pastimes, especially when people ask interesting questions and we get to the point where people start smiling and completely change their minds about vultures. First, for many people, vultures are just big birds in a zoo, later they become lovely creatures that are worth fighting for! And many people were so grateful for our work that I really had to hold back the tears.
I enjoyed my weekend at Wilhelma Zoo so much, and I am deeply impressed by the fantastic organisation of the two events! Previously, I've supported vulture information desks five times in two other zoos, but the friendliness and companionship experienced at Wilhelma Zoo are unparalleled! Special thanks to Felicitas, Stefanie, Ewa, Miriam and all the others members of the wonderful vulture crew! What a great honour to meet you!
Another highlight of this trip, I was allowed to stay in a guest room right in the middle of the zoo, close to the vulture enclosure and the information desk. From sunrise to sunset, I was free to walk around the enclosures and watch the animals before and after opening hours when they were more relaxed. And I could listen to parrots and some other animals and even hear the lions roar all night. I've always wanted to spend a night inside a zoo, and staying at Wilhelma Zoo made my dream come true!
A perfect vulture weekend in Stuttgart!